Abraham Lincoln's Life and Legacy at Ford's Theatre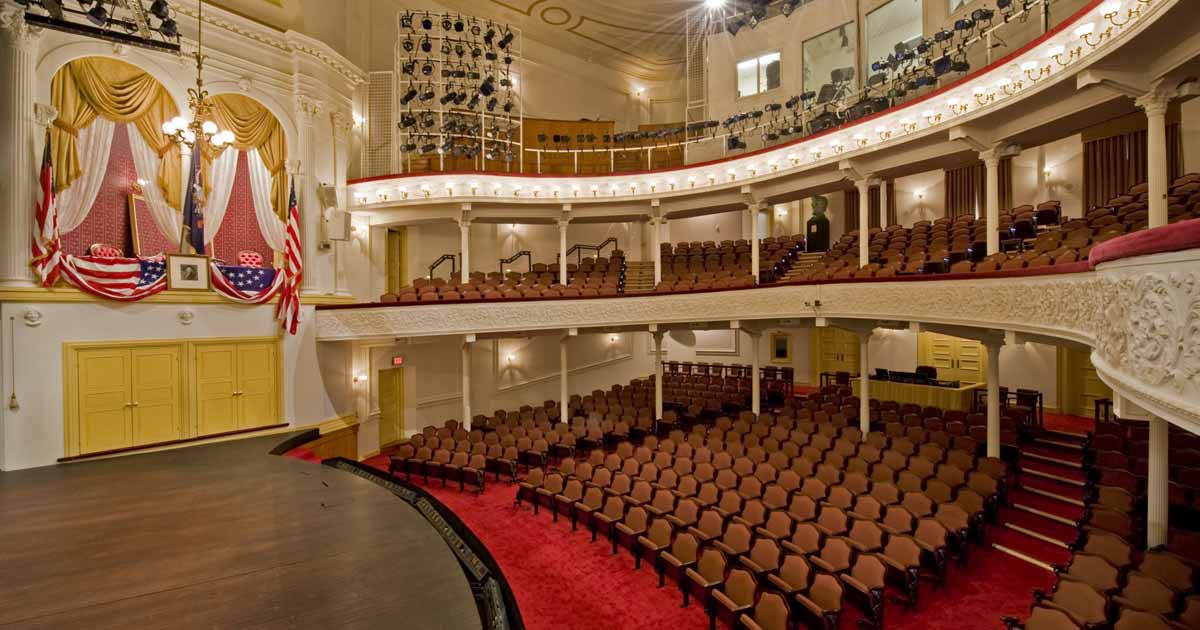 One of the most visited sites in the nation's capital, Ford's Theatre reopened its doors in 1968, more than 100 years after the assassination of President Abraham Lincoln.
Operated through a partnership between Ford's Theatre Society and the National Park Service, Ford's Theatre is the premier destination in the nation's capital to explore and celebrate Abraham Lincoln's life and legacy.
Today, Ford's Theatre advances Lincoln's "unfinished work" with programs and performances that cultivate empathy, encourage dialogue, and bridge divides in our American life. Now, groups could explore the venue's various digital tours and online resources right from home.
Following Ford's Theatre's postponement of Guys and Dolls, production band members and three of the show's actors came together to record a virtual musical number—all from their individual homes. View their socially distanced musical number, "Fugue for Tinhorns," on the Ford's Theatre YouTube channel. Groups could catch the rescheduled run of Guys and Dolls in 2021, March 12 – May 22.
The all-ages resources below are available at any time.
Lincoln's Assassination
A popular 26-year-old actor, Confederate sympathizer, and white supremacist named John Wilkes Booth had plotted for months to abduct President Abraham Lincoln and give the Confederacy another chance. Three days before the assassination, hearing Lincoln talk of his plans to bring the nation together—in particular, his plans to grant some African American men the right to vote—Booth's plans turned murderous.
Lincoln's Death
After John Wilkes Booth shot President Abraham Lincoln at Ford's Theatre, soldiers carried him across 10th Street, so he could pass his last moments peacefully, surrounded by those who knew him best. President Lincoln died in the Petersen family's boarding house at 7:22 a.m. on April 15, 1865.
Investigating the Assassination
Why did John Wilkes Booth assassinate President Abraham Lincoln? How did investigators learn what happened and why? Join Detective McDevitt as he conducts his investigation.
Impact on a Nation
News of President Abraham Lincoln's assassination spread quickly across the United States and beyond in 1865. Many grieved, but others celebrated the death of a man they considered a tyrant. Reactions to President Lincoln's assassination varied and did so in ways that might surprise us. Use this page to investigate how people around the United States and the world reacted. What do their feelings about Lincoln's assassination tell us about how they saw the larger questions facing the United States as its Civil War drew to a close?
The Vigil on Tenth Street
After soldiers carried President Abraham Lincoln into the Petersens' boarding house, a crowd gathered outside on 10th Street to await word. What would happen to their beloved leader? What would happen to the country? Explore the only first-person representation of the scene and see what eyewitnesses had to say.
Lincoln's Funeral Train
An estimated 7 million people turned out in 11 cities to mourn the slain President Abraham Lincoln as his funeral train carried his body back to Springfield, Illinois. See where the funeral train traveled.
Remembering Lincoln: A Digital Collection of Responses to the Lincoln Assassination
In 1865, as people around the nation and around the world learned of the assassination of President Abraham Lincoln, they recorded their reactions in many forms—from written materials such as and letters to decorative items such as ribbons and flags. Discover personal items and remembrances from the Americans whose lives were touched by the president's death and its national and international aftermath. The website includes more than 850 primary sources drawn from 40-plus libraries, archives, museums and private collections.
Groups could also explore the history of Ford's Theatre on Google Arts and Culture and view a fly-through of Historic Ford's Theatre.
Additional resources—including various live-streamed virtual events on Facebook, YouTube and Twitter—will continue to be updated at Ford's Theatre.
Written by Sarah Suydam, Staff Writer for Groups Today.
Photo courtesy of Maxwell MacKenzie.