A New Day Dawns in Milwaukee
For much of the country, March begins to bring a glimmer of relief from the harsh winter weather. As the sun starts to shine more often, a new day is dawning in Milwaukee, as the museums in the city have jointly announced they will reopen in March 2021.
Among the museums who will again welcome visitors—with proper health and safety protocols in place—are Discovery World, the Harley-Davidson Museum, the Milwaukee Art Museum and the Milwaukee Public Museum.
"We're thrilled to have visitors back inside Discovery World and to offer our community the opportunity to once again explore Milwaukee's amazing cultural institutions," said Bryan Wunar, Discovery World President & CEO. "It's time to open our doors so that we can continue fulfilling our missions of connecting families with fun and educational learning experiences."
City of Milwaukee health officials have approved safety plans for each institution, making this the first step of phased museum reopenings to the public. Reinforced protocols to support healthy and safe environments for visitors and staff include robust cleaning procedures, hand sanitizing stations and online ticketing to ensure social distancing and limiting of capacity levels. Staff and visitors will also be required to wear face coverings at all times.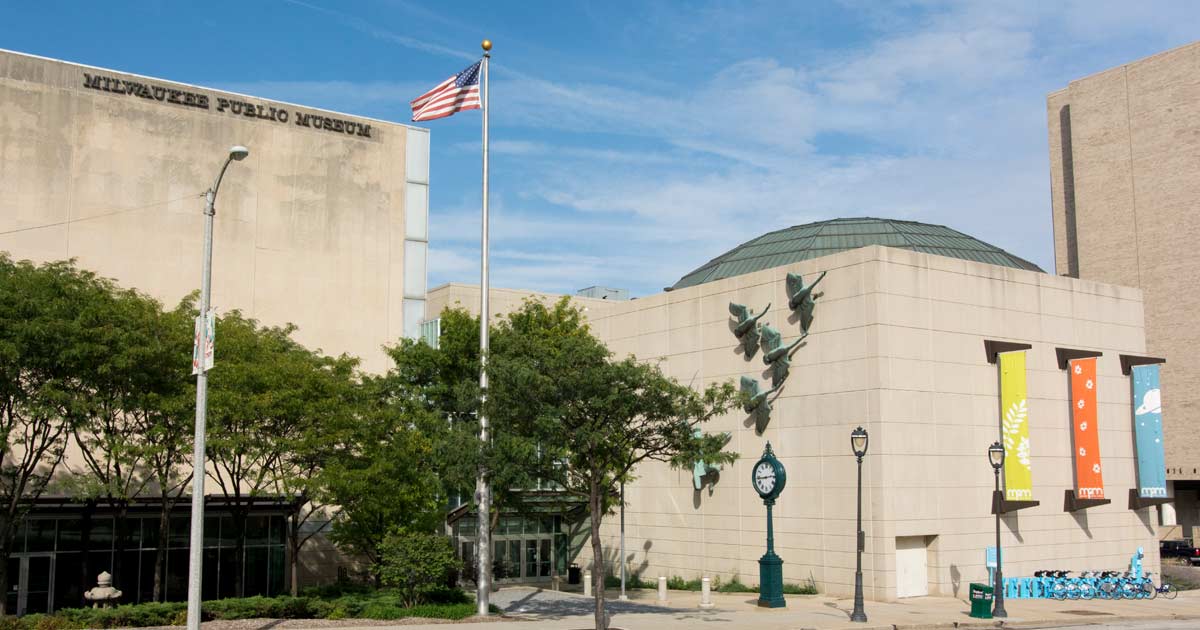 Photo courtesy of Milwaukee Public Museum.
"Throughout this pandemic, the Milwaukee Art Museum has learned a great deal from other museums about how to reopen and safely welcome guests," said Marcelle Polednik, Ph.D., Donna and Donald Baumgartner Director, Milwaukee Art Museum. "This collaboration, more than at any other time, has been invaluable. Our coordinated reopening is one more way we can support each other and reflect the importance of Milwaukee's cultural organizations in the community."
Museums and cultural institutions play an important role in Milwaukee and across the country as community anchors, economic engines, and places for fun, learning and inspiration. Due to the closures caused by the pandemic, and the associated cancellation of special events, museums are facing large shortfalls in revenue. The American Alliance of Museums has reported that one-third of all institutions are at risk of permanent closure, making community and donor support vitally crucial as museums navigate the road to financial recovery.
"Milwaukee's museums and cultural institutions are a major draw for visitors and locals year-round, but their importance goes far beyond that," said Peggy Williams-Smith, President and CEO, Visit Milwaukee. "They are the keepers of our community's culture, history and traditions, which is why the pandemic's effects on their resources have been especially devastating."
The museums, Williams-Smith continued to explain, need all of Milwaukee to step up and show their support through donations, admission and membership if we want to preserve these vital institutions.


Photo courtesy of Harley-Davidson Museum.
"Our team has been eager to welcome our friends and neighbors—safely—back to our campus," said Bill Davidson, Vice President of the Harley-Davidson Museum. "With robust health and safety plans in place, we're confident our guests can comfortably enjoy a visit to our new exhibit, Off-Road Harley-Davidson, a bite at MOTOR® Bar & Restaurant or a visit to The Shop."
Davidson explained that together, with their partners across the city, the museum has been diligently working to make sure they do their part to keep Milwaukee moving in the right direction.
"Milwaukee is a city of museums, with visitors filling our galleries from all over Wisconsin, the U.S., and even the world," said Dr. Ellen Censky, CEO & President, Milwaukee Public Museum. "Though we've all made successful forays into the virtual realm, being onsite is something that has been greatly missed. We're extremely excited that we can partner together and reopen to give the community a variety of experiences to share safely in-person again."
To learn more about specific opening dates and details, visit Discovery World, the Harley-Davidson Museum, the Milwaukee Art Museum and the Milwaukee Public Museum.
Written by Sarah Suydam, Managing Editor for Groups Today.
Photo courtesy of Discovery World.