Upgrade Your Customer Service to a First-Class Experience
Many years ago, a friend shared some advice with me: It doesn't cost much more to enjoy a first-class experience.
He was referring to spending just a little more in certain situations to get much more out of the experience. It could be a nicer hotel, a better seat in a theater, a better cut of meat at the grocery store, and more. He found that it often doesn't cost much more to upgrade.
So, I started thinking about this advice and how we can apply it to the customer experience. Essentially, I was thinking that we can proactively give our customers a better experience by bumping our efforts up a notch. In most cases, it doesn't cost much, if anything, to do so. Mainly it just takes some thought and maybe a little extra effort.
It doesn't have to cost more money.
A few years ago, I had the honor of working with Lexus, the luxury car company. They are known for their first-class level of service. After the presentation, the client sent me an amazing testimonial about my speech; however, there was something else that I felt incredibly proud of. The client also wrote about the experience my team provided. Specifically, it said, "From start to finish, you offered nothing but 'Lexus-like' professionalism and courtesy to our program staff and dealer associates."
What did I do to deserve that accolade? Looking back, I did what most good people—or companies—would do for their customers. I returned calls and emails quickly. I was proactive with my communication. And I met deadlines. On the day of the speech, I showed up early. There was probably more, but in short, I did everything I promised and what was expected. And none of that cost me anything extra. Still, it was being compared to a first-class, "Lexus-like" experience.
So, think about this for a moment. What is the investment to call someone back? If a customer reaches out to you via a call or email, and you intend to respond, why wait and risk frustrating the customer? You're going to return the call or write the email anyway, so why not make an effort to do it in a timely manner?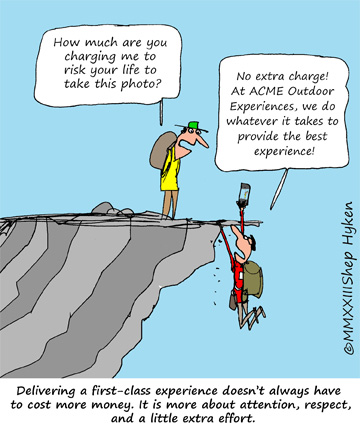 Sometimes upgrading a customer to a first-class experience has nothing to do with money. It has to do with attention and respect. It is what you would do anyway. Being purposeful about little things that are expected and cost nothing – or next to nothing – can go a long way in getting a customer to think of your business as a first-class organization. That's what gets customers to say, "I'll be back!"
Shep Hyken is a customer service expert, keynote speaker, and New York Times bestselling business author. Get more information on The Customer Focus™ customer service training programs. Follow on Twitter: @Hyken
This article was republished with permission and originally appeared at Shep Hyken.
Photo Courtesy of Shep Hyken.