Top 2021 Holiday Destinations
According to Allianz Partners USA's Top 10 Holiday Destinations survey, holiday travel is poised to make a comeback in 2021 and will increase by 34% compared to 2020. The survey found that Americans are planning trips to New York City and Cancun, Mexico as their top domestic and international locations.
After reviewing four million itineraries* for roundtrip flights departing from U.S. airports beginning Saturday, December 18 and returning by Thursday, December 30, the travel insurance and assistance company found that 87% of the itineraries reviewed are for domestic travel, while 13% are for international travel.
With fewer travel restrictions and wider availability of the COVID-19 vaccine, Americans are putting their travel plans in motion this holiday season. New York made its return as the favored destination after slipping out of the top 10 last year, followed by Seattle, which was 2020's top holiday destination.
Americans are also planning trips to warm-weather destinations including Orlando, Los Angeles and Phoenix. The only New England contender, Boston follows, and Atlanta, Las Vegas, Salt Lake City and Dallas-Fort Worth round out the top 10 list for domestic holiday travels.
"Americans are eager to travel again and one trend we've seen is travelers returning to the places they love, whether that's a cosmopolitan Christmas in New York City or basking in the sun on the beautiful beaches of Mexico," said Daniel Durazo, Director of Marketing and Communications for Allianz Partners USA. "Holiday travel can be stressful and with the added uncertainty brought on by severe weather, significant delays and unexpected cancellations, it's important to remember travel insurance. Whether you're visiting family you haven't seen in a while or are taking a much-needed vacation out of the country, travel insurance can provide coverage for pre-paid, non-refundable expenses, medical emergencies and even lost or delayed baggage."
Travelers seeking an international holiday getaway are putting three destinations in Mexico on their holiday wish lists, and checking them twice. Cancun came out on top this year, followed by San Jose Del Cabo and Puerto Vallarta. With eight Caribbean destinations featured in the top 10 international ranking, it's fair to say Americans are looking for a winter escape and a warmer change of scenery this year.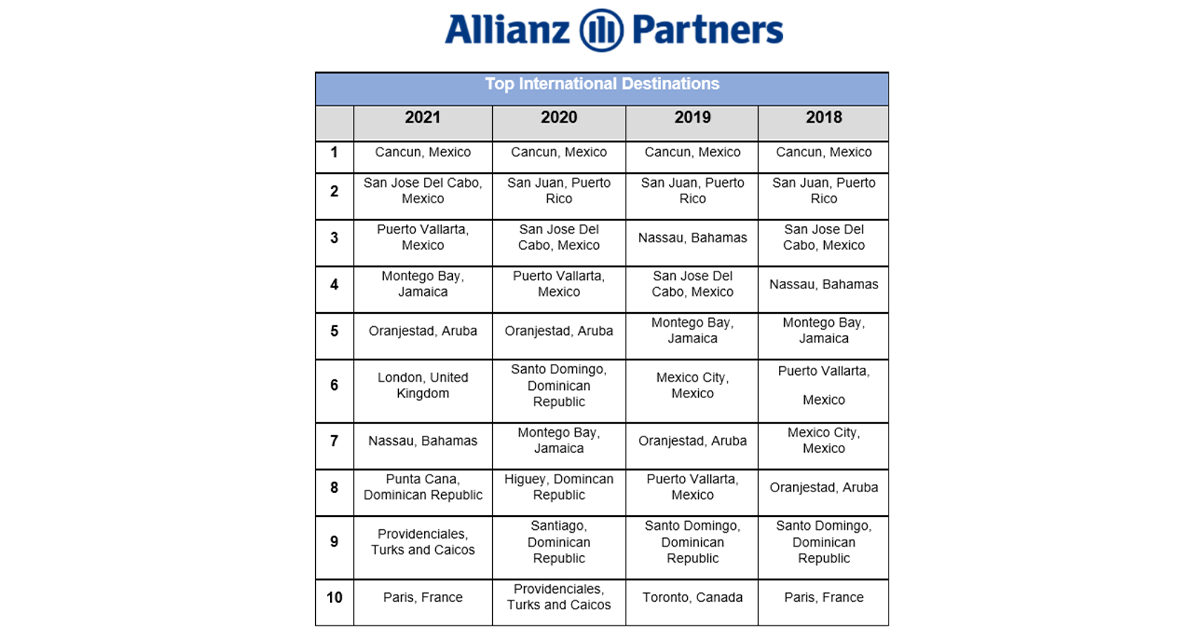 Although flying long distances during the holiday season can be challenging, Allianz Partners' Senior Medical Consultant, Dr. Eugene Delaune, offers some travel tips.
"Stay hydrated, dress appropriately and move about the cabin when possible," said Dr. Delaune. "These tips will help you stay comfortable while flying. If you're prone to motion sickness, choose a window seat near the front of the plane, avoid alcohol and caffeine as they may cause dehydration and have ginger candies or ginger tea."
*Methodology: The data of U.S. travelers' 2021 holiday plans was gathered by analyzing the number of customers that went through the online booking process of airfare and package paths for partners offering Allianz Global Assistance travel insurance, to generate itineraries for roundtrip flights departing from U.S. airports from 12/18/2021 –12/29/2021, returning 12/19/2021 - 12/30/2021. In total, just under 4 million itineraries were analyzed using this methodology.
Courtesy of Groups Today.