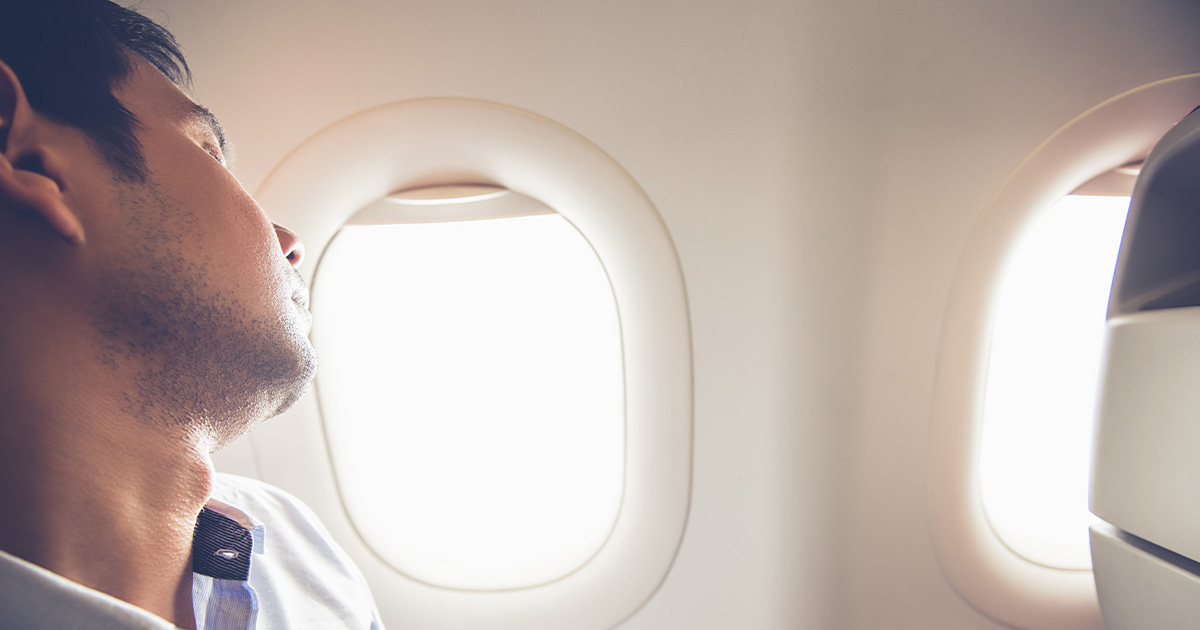 Tips for Catching Quality Shut-Eye While Flying
Catching some quality shut-eye on a flight isn't always the easiest task, especially when it's not necessarily always the most predictable experience. Thankfully, there are some tips, tricks and gadgets sure to make the process a lot more comfortable, whether you're traveling a few hundred miles or a few thousand.
THINK ABOUT YOUR LAYERS.
Planes are notorious when it comes to being either freezing cold or scorching hot, making it a tall task to nail your travel outfit every time. A way to mitigate this? Dress in layers! Choosing items with zippers or that are looser fitting (and don't have to go over your head) are smart choices. Also, opt for some cozy socks to keep your feet warm and consider packing a small throw or large scarf to wrap up in for extra coziness.
INVEST IN NOISE-CANCELING HEADPHONES.
Whether you're hoping to listen to a podcast, music or audiobook—or are simply looking for some peace and quiet—noise-canceling headphones should be on your radar. Because they'll be on your ears for a good while, ensure the fit is comfortable and test them out around the house before embarking on your trip. You can thank us later.
BLOCK OUT UNWANTED LIGHT.
Close your row's window shade if possible and pop on a light-blocking mask to give yourself as dim an environment as possible. Thankfully, you've got options when it comes to choosing an eye mask to suit your needs. From luxurious washable silk to weighted masks, there's something for everyone's needs. There are even molded options that provide a wider and deeper eye space than most conventional models, perfect for those who don't want to ruin eye makeup or want the ability to blink freely. If you're in a pinch, a hoodie with the drawstrings pulled tight also does the job, even if it's not the most fashionable choice.
A PILLOW OR TWO CAN GO A LONG WAY.
A quality neck pillow is an absolute must. Opt for an adjustable, ergonomic option that not only provides comfort, but actual support, as well. Some neck pillows are even designed with chin support in mind to keep you from feeling like a bobblehead or like you're going to wake up with a kink in your neck. Another addition to consider is a lumbar support pillow, ideal for keeping that lower back in check.
REFRAIN FROM CROSSING YOUR LEGS.
According to the CDC, crossing your legs on a long flight restricts blood flow and increases your chance for a blood clot. Instead, stretch your legs out in front of you while keeping a slight bend in the knee. Depending on your height, you could even bring a foot sling/hammock with you to lift your legs off the ground and relieve pressure in your hips. It's also smart to do some stretching before you board to give your limbs some room to move around and to relax your muscles.
DITCH THE CAFFEINE AND BOOZE.
Because caffeine and alcohol can lead to less quality sleep and are both dehydrating, be sure to drink plenty of water before and during your flight. You could even opt for a caffeine-free tea for a low-stress warm up. Sure, it might lead to more bathroom trips but we'd like to think it's worth it in the end to wake up sans grogginess. You may also consider taking some melatonin to aid in falling asleep on longer flights and starting a probiotics routine (if you don't have one already) two days beforehand to calm a sensitive stomach.
Written by Sarah Suydam, Managing Editor for Groups Today.
This article originally appeared in the Mar/Apr '23 issue of Groups Today.