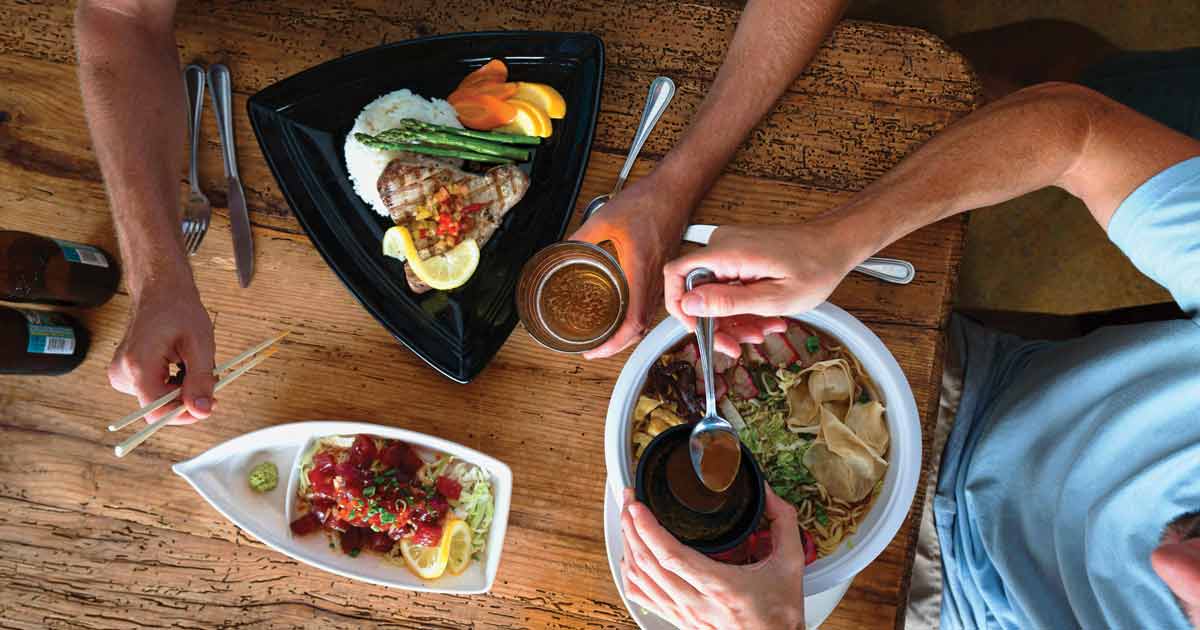 Go Off the Menu with These Unexpected Dining Destinations
Been there, tasted that? If you're looking for new places to take your food enthusiasts, you'll find plenty of possibilities in these up-and-coming cities—throughout the U.S. and beyond.
Set on the Atlantic coast and steeped in Colonial American history, Newport, Rhode Island, welcomes groups with signature culinary activities. Among the favorites is the Newport Foodies Stroll, taking guests on a tour through the past and to five different restaurants, each with a special treat. It runs April through November. Or get out on the waves with Fish'n Tales Adventures, for a hands-on lobster tour or a black sea bass fishing trip.
Ottawa, Ontario, is booming with hotspots, especially the ByWard Market area venues operated by group experiences specialist Ottawa Venues. Among several group-friendly establishments they recommend are Lowertown, which celebrates the history of the ByWard market with local brews and a from-scratch kitchen using locally sourced foods, and Senshouse sports bar above it, with its retractable roof and sweeping views. There's also Pure Kitchen, for delicious vegetarian and vegan options.
Another waterfront location, this one near Lake Erie, is Buffalo Riverworks in—you guessed it!—Buffalo, New York. It boasts an exciting group dining experience in a surprise location: amid the ruins of the GLF grain silos, symbols of the city's industrial roots. A combination of restaurant, brewery, and entertainment complex, the Riverworks offers beer garden cuisine and libations and adventure-packed recreation, plus music, tours, and more—all in one place.
Southern Indiana, on the Ohio River in the Kentuckiana area, offers a number of options that cater to groups. Attend a food demonstration or take a cooking class at MESA: A Collaborative Kitchen; dine on old-world bites or sample beer and spirits guided by local experts at Pints&union; or indulge in old-fashioned sweets at Schimpff's Confectionery, also offering candy-making demonstrations. Further afield, visit Joe Huber's Family Farm and Restaurant for a home-style meal.
Head to Chattanooga, Tennessee, for group opportunities galore, from lunch and dinner cruises on the Southern Belle Riverboat to daytime and evening meals served on the Tennessee Valley Railroad Wine Dinner Train. On the ground and off the rails are downtown's Big River Grille & Brewing Works and Puckett's Grocery Restaurant, known for its Southern hospitality. There's also River City Sessions, with dining and shows ranging from Appalachian mountain folk to classic blues.
Most don't associate lakes with plains and cornfields, but that's what makes Okoboji, Iowa, exceptionally distinctive. Bracco & The Waterfront at Bridges Bay Resort, The Okoboji Store, Hi-Point Sky Lounge, Maxwell's Beach Café, and Snappers Turtle Bay at Parks Marina are beloved lake-view restaurants with glorious sunsets as a backdrop. Nearby Arnolds Park is also a draw, as are the area's many golf courses.
From a three-day culinary itinerary to a luxury SpiritLine dinner cruise on the Charleston Harbor, Charleston, South Carolina, is a gracious host to eager epicures. There's dining at Middleton Place, a former plantation and National Historic Landmark, and scads of downtown barbecue joints—such as Rodney Scott's, Lewis Barbecue, and Home Team. New on the scene is Firefly Distillery, which offers tours and tastings.
Move over, NOLA: Baton Rouge, Louisiana, is a rising star on the food and beverage stage. Mid City is a thriving hub, with Whitestar Market food hall one of its lures. Also sizzling are Redstick Social for dining, bowling, and live music, and Soji for modern Asian cuisine. Groups could tour Tin Roof Brewery, Southern Craft Brewing, or Three Roll Estate distillery, or take on an immersive Creole and Cajun culinary experience with Louisiana Culinary Institute.
Mostly known for its craft beer, Bend, Oregon, is more focused on the beverage side of cuisine—and does it well! Wanderlust Tours runs the Bend Brew Bus and the Bend Ale Trail, both paired with tastings and appetizers or snacks. Other interesting offerings are Wanderlust's year-round, outdoor cave, snowshoe, canoe, and hiking tours catered by Wild Oregon Foods and its Art in Nature series.
Did you know Sacramento, California, is America's "Farm-to-Fork Capital"? That means an abundance of incredibly fresh local eats! For restaurants with private dining rooms that could accommodate groups, check out Pilothouse on the Delta King, Rio City Café, Hoppy's Railyard Kitchen, Español, Foundation, Lucca, Mulvaney's B&L, and The Firehouse. For something different, try a pioneer dinner at Sutter's Fort State Historic Park.
Forget the weather: The San Diego, California, foodie scene is also quite the conversation starter. There are oodles of tours blending food, history, and culture, offered by So Diego, Bite San Diego, Epicurean San Diego, Brew Hop, San Diego Beer, Wine & Spirits, and Wild Foodie. Cutwater Spirits takes groups behind the scenes to see the distilling process, while Flagship Cruises and Events offers dining and cocktail cruises and Little Italy Food Hall serves up classic fare.
Polynesian, Japanese and American influences converge in Honolulu, Hawaii, on Oahu's south shore, providing a feast to behold. Celebrity chef Michael Mina presents THE STREET Food Hall, with a curated collection of stations and cuisines with chef-inspired menus. Take the Taste of Kualoa Farm Trolley Tour to learn about aquaculture and explore (and taste!) tropical fruit or enjoy a luau show at the Polynesian Cultural Center.
For a mix of Mediterranean and North African fare is Malta, in Southern Europe. Ideal for traditional and adventurous palates, the Maltese experience could include cooking classes and demos, sea salt harvesting and strawberry picking, wine tasting and vineyard tours, a farmer's lunch in an olive grove, and a variety of food festivals.
Written by Allison Kay Bannister, Contributing Writer for Groups Today.
This article originally appeared in the Mar/Apr 2020 issue of Groups Today.
Photo courtesy of Hawaii Visitors and Convention Bureau.