A Reason to Smile During the COVID-19 Pandemic
I'm going to switch up my typical customer service and experience content to share a little motivation.
My buddy and fellow professional keynote speaker, Joey Coleman, is one smart dude. He made a great observation about the way people are reacting to the COVID-19 pandemic. He noticed that the quarantine and stay-at-home orders are magnifying people's personality traits. For example, if you are an optimistic person, you may be showcasing that side of your personality more than ever. If you're a giver, you may be exhibiting more generosity than usual by supporting—financially or any other way—healthcare workers, struggling local restaurants, or charity in general. By the way, any negative traits you might have are also amplified.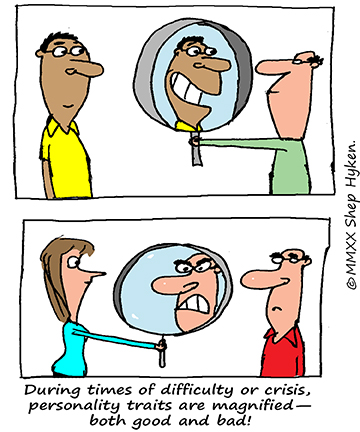 It made me notice some positive behaviors of certain leaders in business, big and small. When an automobile manufacturer stops building cars and instead builds ventilators, that speaks volumes in an effort to not only give back but try and keep as many people employed as possible even as their sales slip.
Consider restaurants that could shut down but instead, choose to stay open with delivery or curbside pickup services to try and give their employees money to live on. Celebrities are doing free concerts and appearances to raise money for our healthcare heroes, people in need and more. Many people, in general, are finding ways to give back.
A friend of mine is in the television business, where the main source of income is advertisers—advertisers who are dramatically cutting back, if they're even advertising at all. The result is that many TV and radio stations are announcing furloughs and cuts in salary. His company, which owns a chain of stations, chose to do the opposite and announced that even though they are losing money, they would not lay off or furlough any of their employees. Even commissioned salespeople would receive income. The point is that there are many business leaders from all types of businesses and industries that are finding ways to keep their doors open, even if it's a stretch, just to support their employees. It's easy to be classy when times are good. But when they are not ... that's when class really counts.
I'm a very optimistic person, yet I'm also a realist. This is a strange and even scary time we are living in. We all watch the news and see the dark side of COVID-19, which includes devastating numbers of illnesses and deaths, financial struggles, and more. Businesses are going under. Unemployment is at an all-time high. A lot of people are hurting. But there is still quite a bit of "good" happening around us. I just shared a fraction of what I know is going on, just to make the point that there are still good people doing good things, often at their own personal sacrifice.
It's important to find reasons to smile and laugh during dark times. Keep your morale up, and the morale of your colleagues and employees. When you open your eyes and ears to see and hear good, you'll start to notice even the smallest random acts of kindness happening around you. That alone is a good reason to smile.
Shep Hyken is a customer service expert, keynote speaker, and New York Times bestselling business author. For information, contact 314-692-2200 or www.hyken.com. For information on The Customer Focus™ customer service training programs, go to www.thecustomerfocus.com. Follow on Twitter: @Hyken
(Copyright © MMXX, Shep Hyken)
This article has been republished with permission and originally appeared at Shep Hyken.